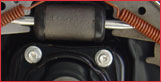 Our services vary, from the sourcing and supply of quality parts from our extensive stock or outsourced procurement to the fabrication of bespoke parts and reconditioning of used parts.
We stock and supply (Don) Brake linings, (Sachs) Clutches, (Wabco, Knorr Bremse, and Haldex) Air Brake equipment, (Caliper Engineering) Calipers for all makes of Truck and Trailers, (Granning) Air Bags, (Jonesco) Wings, (Jost) Landing Legs, (VBG) Couplings and spares, (Juratek) Discs and Pads, (EBS) Brake equipment, (Pollard Beaumont, Abal Eng, and Truck and Trailer Components) Trailer spares.
Our inhouse workshop offers Brake Relining and flywheel Machining.
We also offer free delivery service in the north West area.